There is a pretty strong sentiment that people only realize at a later age that they feel like they weren't actually taught such useful things in school. To which we would have to say that we agree. For example, when was the last time you had to do the Pythagoras theorem? Or when did you last need to recite the dates of all major world wars? As critical as these things are to successfully graduate high school, they aren't all that useful when it comes to living in the real world. We were taught so many different maps in school, but none of them seem to ring any bells. And do you know why? That's because they were dry and not very useful. But we have compiled a collection of maps so interesting and relevant, that will make you wonder what you ever learned in school in the first place.
1. Famous Brands From Each US State
It may not seem obvious to you, but there are many brands that we know and love that were born right here in the United States. Some brands have a very strong connection to their hometowns, whilst others share a minimum amount of passion for their roots.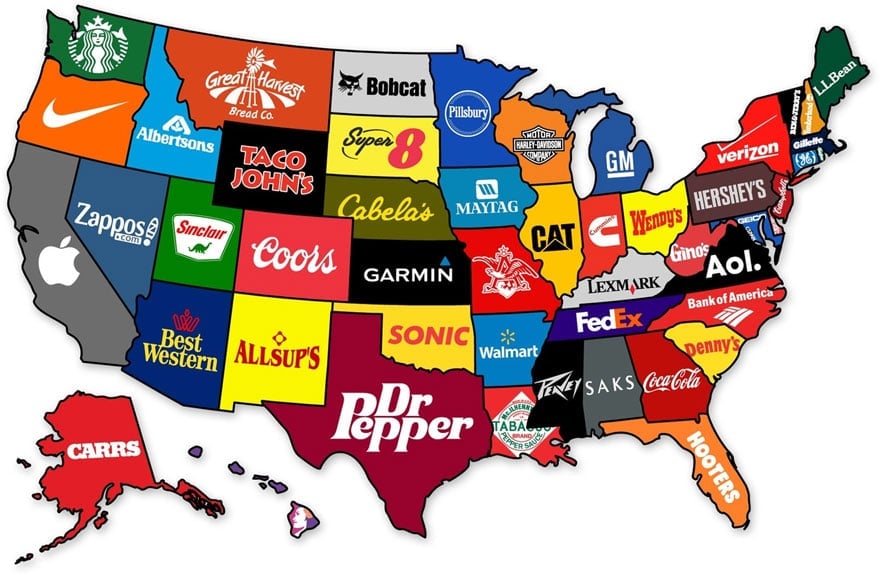 Can you imagine a world without Nike, Coca-Cola, Starbucks, FedEx, or even Hooters? All of these things were all thought of and created in different parts of America. Depending on where you are from you might have an affinity towards a certain brand, but we know and love all of these.