Sometimes, don't you wish you could voice the opinions you have in your head? Well, Dude With A Sign does it for you – and for all of us. Dude with a Sign (that's how he's known around the web) has for years now managed to say what we've all been thinking in a simple, eloquent, and amusing way. Simplicity is key for Dude with a Sign. All he does is stand on NYC street corners, his opinion on mundane, everyday issues written on a piece of cardboard, and silently lets his voice be heard by the masses. It's amazing and inspiring, and we're totally here for it. Here are some of the best moments he truly expressed what we've all been thinking all along.
1. Are You Still Watching?
We've all been here at least once, right? Netflix stops whatever show you're watching to clarify that you're still there, you're still watching, you're still wanting this show to air. Yes, Netflix, we're still here. Stop asking us! At this point, it feels like Netflix is perhaps questioning our binging decisions.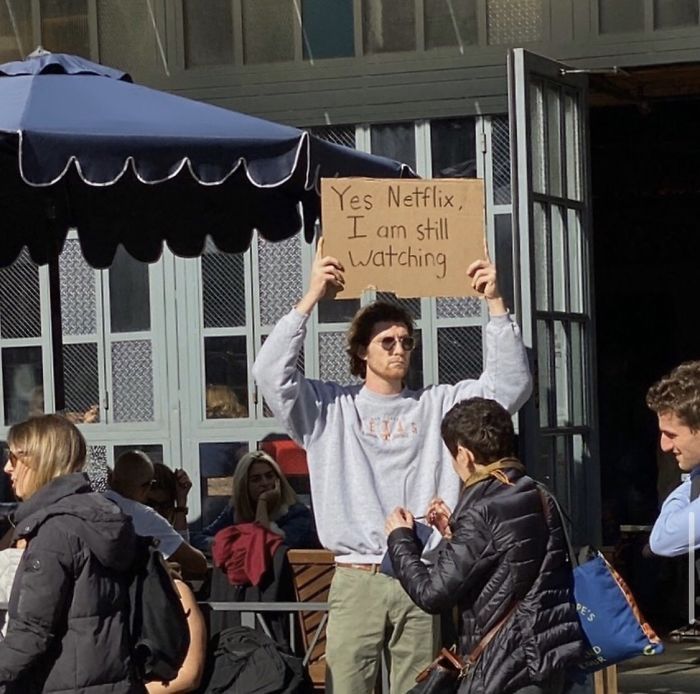 Anyone else feels like the "Are you still watching?" question feels a tad bit condescending and judgmental? It looks like the Dude With A Sign agrees with us and decided to question Netflix himself. And honestly, we completely agree. Just let us binge every single show without asking us what we're doing, Netflix. We know what we're doing.